At the height of the pandemic during 2020, tourism experts predicted that Asian tourist destinations would reopen first as Asian countries such as Taiwan and Vietnam controlled COVID-19 outbreaks relatively well. However, with slow vaccination rollout and a lack of vaccine supply, only Phuket, Thailand and Bali, Indonesia plan to reopen for international tourists this summer. The Phuket 'sandbox' experiment launches on July 1st, and Bali's three green zones for international tourists will open in late July. Both destinations prioritised the vaccination roll-out for the local populations in these limited geographic areas, at the expense of the wider population.
In the most part, Asian destinations are closed for the summer holiday period, while several European destinations reopen to international tourists. While the decision to reopen reflects the higher vaccination rates in European countries, it also reflects the lack of any concrete plan for societies to reopen safely in many parts of Asia. While the stringent policy measures in many Asian countries successfully combated COVID-19 contagion, it makes easing lockdowns difficult.
However, with many popular Asian destinations closed, vaccinated Asian tourists with pent up travel desire, are booking their holidays to Europe. For example, South Koreans are booking European holidays for the summer, September's 'Chuseok' national holiday and the Lunar New Year holiday in February 2022. Popular destination choices include France, Italy, Spain and Switzerland as well as other destinations like Hawaii and Guam. This is an economic loss for Southeast Asian destinations as South Korea is one of the main source markets.
Whilst this may read as a gloomy portrait for Asian tourism destinations, there are some silver linings for post COVID tourism recovery in Asia. These include (1) domestic niche  tourism (2) wellness tourism, and (3) rural development. These have to help reset tourism in Asia and help alleviate poverty accelerated by COVID-19 and subsequent lockdowns.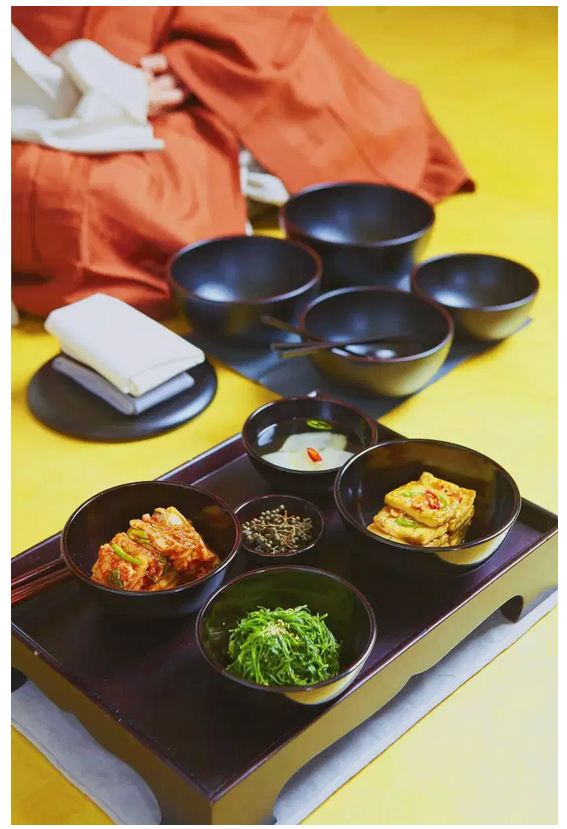 Korean Buddhist temple food is becoming popular for wellness tourists. (Cultural Corps of Korean Buddhism)
Domestic Niche Tourism
During the pandemic, some destinations saw domestic tourism growing, and saw the emergence of new niche segments. In Vietnam, the expanding middle class were forced to stay local and therefore sought luxury holidays in Vietnam itself. This helped the high end hotel sector to stay afloat, and benefited the economy during the pandemic. Despite the perception that international tourists spend more money during their travel in Vietnam, when I organised a webinar on Vietnam's domestic tourism sector, several local Vietnamese scholars mentioned that certain segments of domestic tourists were spending more money than foreign tourists.
In China, young domestic tourists also began visiting rural towns to slow down and enjoy local (slow) cuisines. Young affluent Chinese professionals have also begun to live and work as digital nomads, and are exploring remote areas of China. In South Korea, there is an emerging trend of 'one month stay' travel, with many choosing a one month stay in rural towns. Recognising the demand, local authorities are therefore investing in creative tourism products. Whilst domestic tourism has long been under-researched in many Asian countries, the pandemic has taught us to the need to research domestic tourist demand and tourist behaviour. This may help Asian destinations achieve more balanced and sustainable tourism development, as well as optimise the potential of domestic tourism.
However, it's not all about markets and economic opportunities. The pandemic has also allowed locals to enjoy their own tourism attractions without foreign tourists as part of so-called 'staycations'. That's also very positive!
Wellness has been a keyword for mental health during the pandemic, and people have been engaging in wellness programmes, using domestic resources, during these uncertain, and stressful times. When travel restrictions ease, tourists will increasingly travel to wellness destinations for their pandemic recovery. This can take various forms, including hiking, yoga, mindfulness, (healthy) food tourism as well as (secular) pilgrimage. Destinations that are prepared for this demand might economically recover faster as the demand already exists across societies and cultures.
Asia has rich wellness resources, heritage and traditions, and destinations such as India and Thailand have been attracting wellness tourists for decades. However, destinations need to develop differentiated products and programmes beyond 'luxury spas and yoga studios' to attract tourists post COVID-19 lockdowns. While some innovative businesses are infusing unique local heritage, traditions and resources into their wellness products and services, each destination should develop creative, cultural and sustainable wellness tourism programmes and marketing strategies. For example, South Korea can attract wellness tourists, through  their existing Buddhist temple stay programmes with temple food cooking sessions. As each province has different temple food, and traditions, each province can develop differentiated tourism products for both domestic and international tourists. This will provide great opportunities to revitalise their culture and living heritage as well as the economy. Beyond the popular wellness destinations such as Bali (Indonesia) and Thailand, more destinations, such as Laos and Sri Lanka should diversify their tourism sectors by developing wellness tourism with their rich wellness resources and heritage.
Domestic tourists learning how to cook temple food. (Cultural Corps of Korean Buddhism)
Many of Asia's most popular tourism destinations are urban centres such as Bangkok, Thailand, and Singapore. Similarly, Bali's tourism is heavily focused in the urbanised South (Bandung district), where the benefits of tourism often stay. Whilst Indonesia's poverty rate is about 10%, the rate in some of the rural villages in North-East Bali is over 35%. As they desperately need diverse income sources, rural tourism can help bring new livelihoods and add vibrancy. The pandemic has encouraged people to take more interest in choosing to relaxing tourism products in rural and quiet places and engaging in nature-based activities. Governments and local authorities must pay more attention to these rural areas and invest in rural tourism development. While the demand is there, they need to be more accessible and require infrastructure, such as road systems and public transportation. While in theory, tourism provides an opportunity to alleviate poverty in rural areas, this requires government and community support. This hasn't been practiced widely, until now.
There are therefore silver linings for post COVID tourism recovery in Asia. However, there should be no return to the normal, and I recommend authorities reflect on previous structural problems in Asian tourism and are willing to shake up the existing (imbalanced) structure. While each society, government, business is different, local involvement as well as regional cooperation will be vital. When reopening is important, how to reopen is even more crucial.
By Jaeyeon Choe, Hue University, Vietnam
About the author: Dr Jaeyeon Choe holds her PhD in Tourism Management with a minor in Cultural Anthropology from The Pennsylvania State University, US. She has taught at Bournemouth University, UK over 5 years. She is a researcher and consultant specialising in sustainable tourism development in Southeast Asia, sustainable community development and wellness/spiritual tourism. She keynoted at Sustainable Tourism Development for Southeast Asia Conference in Vietnam, 2019. She is co-editor of Pilgrimage Beyond the Officially Sacred: Understanding the Geographies of Religion and Spirituality in Sacred Travel. Jaeyeon is currently leading a project, 'Tourism for SDGs: Wellness Tourism and Sustainable Community Development in Bali'.
Suggested further reading
Yin, D., Huang, Q. & Su, X. (2020). Tourism and the pursuit of subjective wellbeing: A temporal perspective. The Geographical Journal, 186, 403 – 414. https://doi.org/10.1111/geoj.12360.
Dai, L., Wan, L., Xu, B., Wu, B. (2016). How to improve rural tourism development in Chinese suburban villages? Empirical findings from a quantitative analysis of eight rural tourism destinations in Beijing. Area, 49, 156 – 165. https://doi.org/10.1111/area.12308.